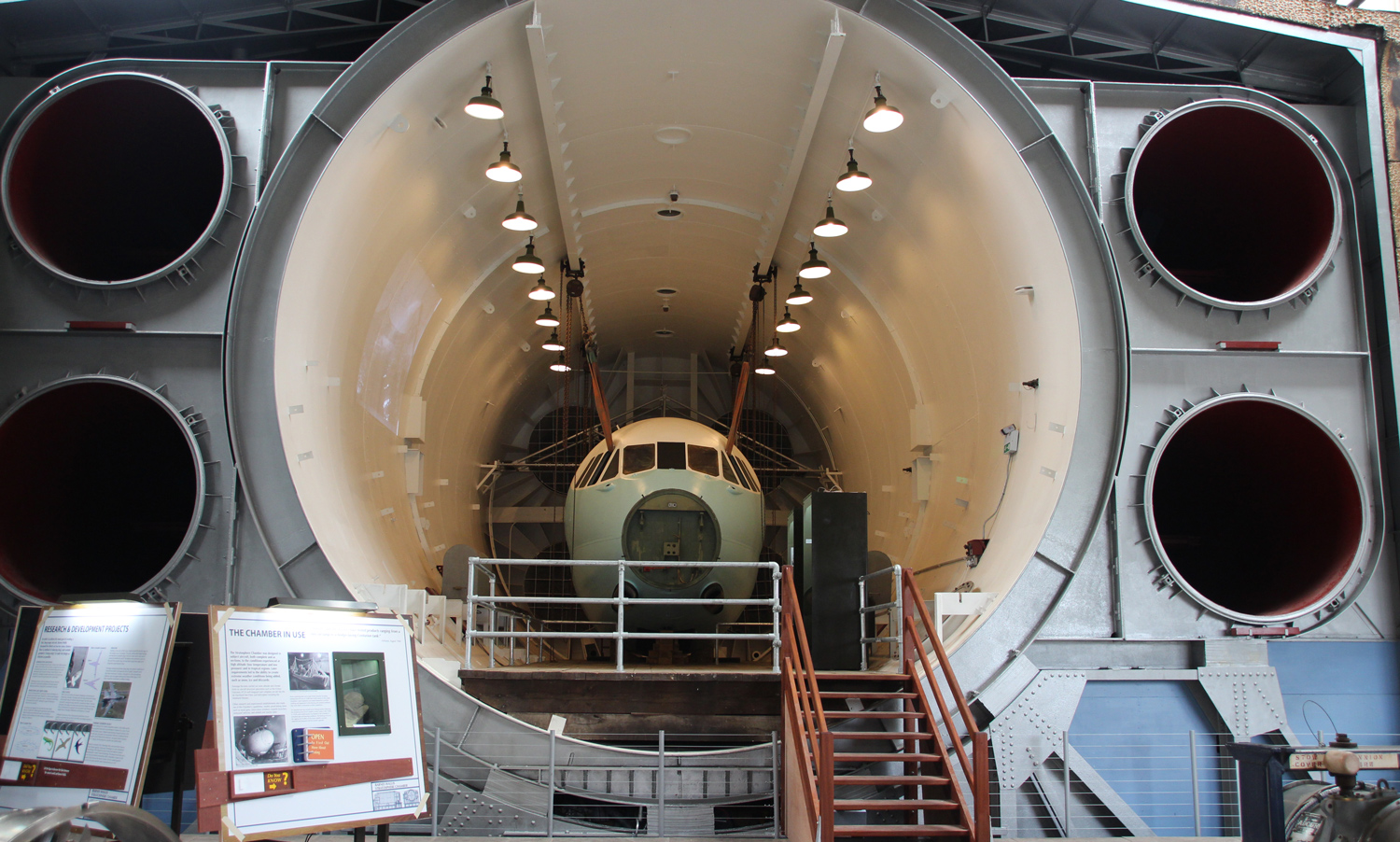 Engineer, designer and inventor Sir Barnes Wallis spent almost four decades working at Brooklands, during which time his vision and contribution to engineering and aviation created a legacy which continues to make an impact on the world we live in today.
Between 1935 and 1945, Vickers-Armstrongs built the Wellesley, Wellington, Warwick and Windsor series of bombers at Brooklands using the geodetic framework system developed by Wallis. Based on his earlier work in airship design, it was light but incredibly strong, which significantly increased the level of punishment it could absorb in combat. The only surviving Wellington Bomber that saw military action is on display in the Brooklands Aircraft Factory exhibition at Brooklands Museum.
In April 1942, whilst working in the Vickers-Armstrongs design office, Wallis wrote a paper Spherical Bomb – Surface Torpedo describing the potential strategic power of a bomb 'skipping' over water. On December 4th that year a Wellington Bomber, piloted by Vickers-Armstrongs Chief Test Pilot 'Mutt' Summers, flew over the long shingle stretch of Chesil Beach in Dorset and dropped the prototype of Upkeep. By February 5th 1943 it had proved possible to skip the bomb for over 1300 yards whilst remaining generally intact, making Operation Chastise possible and creating the legend of the Dambusters.
An example of one of the concrete-filled Upkeep mines used for trials just prior to the Dams Raid is part of a unique collection on display at Brooklands Museum alongside Wallis' Tallboy and Grand Slam 'earthquake' bombs, with the set soon to be completed by the addition of Highball later this year.
In 1945 Barnes Wallis was appointed head of the new Research and Development department of Vickers-Armstrongs, based in the iconic motor racing Clubhouse at Brooklands. His first major project was the design and construction of the 'Stratosphere Chamber', a unique facility built to test aircraft and components under the environmental conditions prevailing at 70,000 feet altitude. It was in use right up until 1980, contributing to Vickers' aircraft designs such as the Viscount and VC10, and in 2014 was officially re-opened to the public by Barnes' daughter Mary Stopes-Roe following an extensive restoration.
The ultimate goal of Wallis' post-war work at Brooklands was the peaceful development of long range supersonic flight, which he pursued with projects such as the 'swing-wing' aircraft designs Wild Goose and Swallow. Wallis's belief in commercial supersonic flight was finally realised with the first flight of Concorde in 1969. He died ten years later and is buried in St Lawrence's Churchyard, Effingham just 9 miles away from Brooklands.