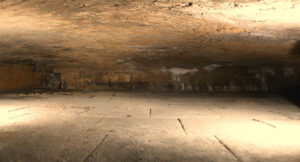 In 2016 we became the owners of a Grade II listed Georgian riverside property in Thames Street, Sunbury, and the proud custodians of a rare and previously unrecorded bread oven within our basement.
We soon realised the historical importance of this remarkable oven and felt that it deserved to be recognised as one of Sunbury's historical treasures. In view of this we invited the Sunbury & Shepperton Local History Society and Marc Meltonville, an expert food historian for the Historic Royal Palaces, to a recent viewing.
The enormous 250 year old brick built bread oven measures 10 ft x 9 ft x 2 ft internally, and has a domed roof with a flagstone floor. The oven walls and perhaps the roof also, are about 18 inches thick, in order to retain as much heat as possible after firing.
It is likely that our house served as a communal bakery providing daily bread for almost all the villagers between 1750 and about 1840.
A journey to the bakery would have been an integral part of the villagers' day, as witnessed by the well-worn steps to our front door. Even the kitchen staff at some of the local grand houses may have been sent here to collect their daily bread.
Marc Meltonville explained "It would have been the task of a young apprentice to light the bread oven. This would have been exhausting and hot work. He'd rise early, around 3 am, and commence by stacking logs round the side of the oven. The middle would then have been filled with faggots of kindling. He'd start the fire, which would burn through and heat the mass of the oven.
It's impossible to overstate the sheer white-hot heat in the middle of the oven. Once it got to temperature, at least 400 degrees, he would rake the ashes out and put them in the fire pit below. It's believed that bakers often threw in a handful of flour and if it went brown in three seconds, the oven was at the right temperature.
To put 'spring' in the uncooked loaves, they would use something like a wet mop head, called a malkin, to add steam." Marc estimates that the oven could easily have produced over 150 loaves a day in three batches, and added "Bread would go in first, then pies, then cakes and biscuits and lastly custard tarts." Delicious!