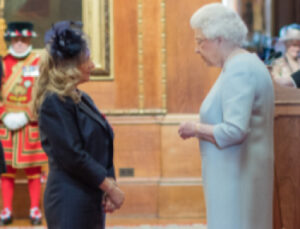 I received an astonishing and humbling telephone call in May last year from the British High Commissioner in Colombo. He said he was delighted to inform me that I had been recommended to receive an MBE award from Her Majesty the Queen for Services to the Community in Sri Lanka, and would I be willing to accept? I thought I'd either misheard or must be dreaming so asked him to please repeat his words and switched my phone to speaker.
He finished by saying that I was sworn to secrecy for another four weeks, until the official announcement in Queen's Birthday Honours List to be published in the London Gazette on 16th June. This was unfortunate as one of 'Their Future Today' charity trustees was listening at the time!
Some weeks later a huge envelope arrived from Buckingham Palace with an impressive Certificate signed by Elizabeth R and Prince Philip, as well as information about the history of the awards and how Members of the British Empire and their
children are eligible to be married and baptized at St Paul's Cathedral.
Then, in November I received an Investiture invitation which to my delight was to be awarded at Windsor Castle by Her Majesty Queen Elizabeth ll, our longest reigning monarch and possibly the most loved, respected and famous woman in the world.
As we drove down the Long Walk in the beautiful spring sunshine, the realization suddenly hit me. This was a day like no other and I felt so nervous I thought I was going to be sick!
We walked through the state entrance and were treated like Royalty. The recipients were led to one of the magnificent state rooms to mingle, drink apple juice, take in the magnificent works of art and have explained the strict protocol of where to walk, when to curtsey, say Her Majesty and thank you Maam!
The guests were directed to Waterloo Chamber where the ceremony began. The Countess of Wessex orchestra played as HM the Queen was escorted by two Gurkhas down the aisle to the Throne where she placed her handbag and stood on a platform awaiting her recipients to be called.
It seems very surreal that our Queen was briefed and is familiar with the work of Their Future Today, a small charity which began in Sunbury on Thames as a call to action after the Asian tsunami. Our aims are to improve the lives of children
surviving without love, care, dignity or education in Sri Lankan state orphanages, and help prevent them from going in.
TFT is now making a difference to about 3000 abandoned and disadvantaged children at the grassroots every year. We are raising health and care standards in institutions and providing vocational skills training, reuniting families, preventing
abandonment in the community, providing early learning at TFT International Preschool and enabling poor rural children to go to school by donating school books to change their cycle of poverty.
Most importantly we are embarking on our most exciting project to date, to influence change and introduce an Alternative Family Care policy. Families First. Orphanages Last.
'Alone we can do so little, but together we can do so much' and I would like to say a big thank you and share this honourable recognition with the many kind and generous local people, especially our fantastic Twirltour Travel clients who have been such a big part of our journey so far.
If you are interested in becoming a Change maker – fundraiser, volunteer or trustee please do get in touch. www.theirfuturetoday.com