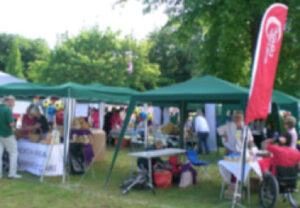 Later this year, on Saturday 9 June 2018, Shepperton folk will again enjoy what they have done for no less than the last 45 years – Shepperton Village Fair! Each year, thousands of people descend on Manor Park at the bottom of the High Street from all over the local area. Some come from quite far afield, too.
They all come to enjoy a family fun day out, kicked off by a huge Procession of local schoolchildren in themed costume and awesome Harley-Davidson motorcycles. On the field are a couple of hundred stalls, a massive traditional marquee, delicious food, fairground rides, live music, live animals and free arena displays. On the Thames nearby, a spectacular Raft Race takes place, run by Nauticalia and Desborough Sailing Club.
On top of all the attractions, people never fail to be struck by the amazing sense of community that the Fair seems to live and breathe. The atmosphere reminds people of why they continue to regard the special place in which we live as 'home'. A place for enjoyment, friendship, generosity, and mutual support. The many local charities that run some of the stalls say that the Fair is the single most important source of funds for the whole year!
Of course, the Fair doesn't just 'happen'. It is put together by a relatively small number of local residents who keep coming back for the same reason as Fairgoers do. Dik Gregory has been Chair of the Committee for 18 years now. He says "The Fair is like a magnet for us – the great feeling you get from being so immersed in village life is something you just don't seem to tire of".
That must be why so many of the Fair Committee members have been involved for so long. One, Shirley Golding, has been involved since she was a teenager in the Fair's earliest days! Back then she was responsible for collecting money from the stallholders, which in 1974, was used to fund the first set of Christmas tree lights over the shops in the High Street. This was obviously good training as now, over four decades later, she is the Treasurer!
But that doesn't mean the Fair Committee doesn't need new people. Just the opposite, in fact. Dik explains "We are not going to be able to do this for ever", adding "plus, the new members who have joined us in the last couple of years have been able to inject some truly great ideas". Now, Dik and his fellow members are looking for more help. He continues "We are really keen to have new people spend some time with us getting to know the Fair and how it all works. That way, we know the Fair will have a chance to continue to provide a great day out long into the future".
There are many different and highly practical ways to get involved: assisting with field planning and stallholder layout; helping to organise what goes on in the huge Marquee; liaising with the many local businesses who kindly sponsor the Fair each year; helping to run the exciting arena entertainment or competitions programmes; assisting with the organisation of the impressive Procession; or perhaps helping to run the Fair's social media. And yes, even helping Shirley look after the Fair's finances.
So, are you Fair game? If so, send an email to Dik at chair@shepperton-fair.org to arrange a chat and find out more. They'd love to hear from you!