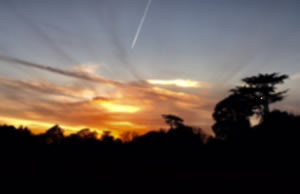 The longer one lives in Lower Sunbury, the more one regards parts of the village as fixtures in the landscape. Restaurants change proprietors, new houses are built and old ones renovated, pubs and shops are changed to residential use. But the lawns along the river, the Linear Park, Sunbury Park and the various children's play areas are where 
my children grew up.
The Salvation Army conference centre, Sunbury Crickey Club and the footbridge to Platt's Eyot are welcoming landmarks when I drive back into Sunbury from Kingston. Each of you will have your favourite views, 
and comfortable milestones along the roads.
But now, more than any time since I have lived here and perhaps since the end of the second world war, the essential structure of Lower Sunbury is under threat.
A land and property price bubble driven by the Bank of England's extremely 
lax monetary policy is driving an exodus from London to the areas around it in search of more affordable places to live. We are not alone – all Boroughs on the outskirts of Greater London are suffering this pressure.
But that doesn't make it easier to bear for any of us here.
Many of you will be aware of The Jockey Club's plans for Kempton Park. Over the almost four years since we found out about their intentions, the number of dwellings they want to build there has risen from 1500 to somewhere in excess of 4000. The prospect of eye-watering amounts of money has led them to the crazy decision to shut down one of their most profitable racecourses and spend the money on prizes.
It would be like cashing in one's pension and taking a punt on … well …. the 3.30 at Kempton Park.
Having failed in previous attempts to get permission to build, The Jockey Club – and Redrow, their preferred mass house-builder – are hoping that the current Review of our Local Plan will allow them to realise their plans.
They have asked to be allowed to build on the entirety of the Kempton Park estate under what is named the Call for Sites. 
Thankfully, there has just been a Green Belt Assessment as part of the Review, which states clearly that Kempton Park "Strongly" fulfils the purposes of Green Belt as set out in national planning law.
This isn't a magic bullet in terms of 
preventing development on Kempton Park, but it would be far more difficult to do so if the assessment had been anything other than "Strong".
But dominating as it is in terms of the threat to the very nature of Lower Sunbury, Kempton Park isn't the only piece of Green Belt around here. As part of the Assessment, for example, Sunbury Park is rated as only performing "Moderately" in terms of the aims of Green Belt. And Sunbury Cricket Club was given the lowest rating – "Weak".
These latter two parcels of land may not be under imminent threat like Kempton, but such ratings weaken their long term status. As the Green Belt is nibbled away, the parts that remain become isolated and vulnerable. Never have our invaluable open spaces been so vulnerable to developer's bulldozers and concrete and tar.
Register for updates at www.keepkemptongreen.com