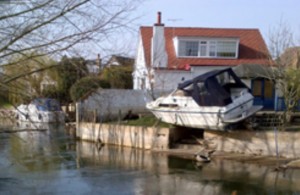 The Spring birdsong has had some competition along the riverside in recent weeks – the sound of pressure washing and brooms, along with the clatter of wheelbarrows and skips being loaded up. Now that the flood waters have receded people who have been affected are clearing up with a vengeance. As we go to press the Sunbury Flood Volunteers have been out helping for the past four weekends and have proved invaluable.
The flood waters left a nasty deep layer of foul smelling brown sludge over everything. Many of the older residents who have had to move out of their flooded homes would not have managed to move flood debris without the band of volunteers. Wheatley's Ait resident Rosalind Sawyerr-Nwabueze put on a barbeque to thank her band of helpers. One of the group of ladies had seen coverage of the disaster on the local news and felt compelled to offer her help. Another assured me that she got a lot out of helping and giving something back to the community.
The group, most of whom did not know each other before, have become firm friends. 
Ironically as the Spring sunshine and blossom lightens our mood, many have forgotten the February disaster, but it is now that families need to start rebuilding their lives. There is a huge amount of work to be done for so many; packing up personal effects, removing flood damaged furniture, carpets, white goods etc. There are reminders of the dreadful event everywhere you look along the river .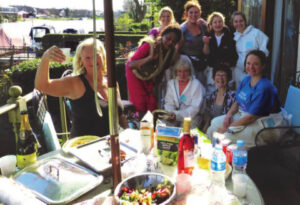 The community will be needing help for many months to come. If you can spare some time please do get in touch. Maybe your employer would be willing to do a 'Day of Giving' which one of the volunteers mentioned to me. She is given paid time off to volunteer for a community project. What a brilliant idea. 
If you have been affected by flooding and need help then don't hesitate to call or drop a line.
Email 
sunburysos@aol.co.uk, or call 07708 166522.