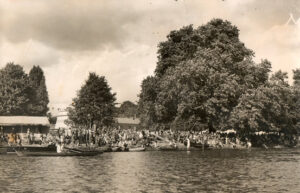 Sunbury Amateur Regatta is firmly established as one of the highlights of the year in Lower Sunbury, both as a sporting event and a fun day for all the community. This year's event, blessed by fine weather, drew the crowds as usual, and the fireworks (a feature since at least 1880) were spectacular!
This picture dating from 1950 shows the crowds gathered on Rivermead Island, much as they do today – the huge plane tree which still dominates the island can be seen to the right. Just out of sight behind this is the old swimming pool which was demolished in about 1990. What was still new in 1950 was the course itself – when racing resumed after the war in 1949, the location was moved downstream from the old course which ran from 'Monksbridge' to 'Weir View' by the church.
Nick Pollard will be giving a talk on 'Old Photos of Sunbury' to Sunbury and Shepperton Local History Society on Tuesday 17th September 2013 at Sunbury Cricket Club, Lower Hampton Rd, Sunbury, starting at 8pm. All welcome, admission £2.