Nestling on Thames Street in Lower Sunbury sits a rather special grooming parlour. Don't go there expecting a wash and blow dry however, unless you are of the four legged variety.
We are talking of course about Grooming Gorgeous, the dog grooming salon which will be celebrating its third anniversary this summer. The salon has gone from strength to strength, with "book early to avoid disappointment" advised. It was not until I inherited my miniature schnauzer that I started to understand what a visit to the salon was all about, and just how important it was to be confident in how your pooch was being cared for.
We are a soppy lot in Britain. I want a trip to the dog groomers to be a positive experience, and Grooming Gorgeous gives clients what they want. "We treat dogs like our own" say owners Dean and Emma, watched by their (very well groomed) Pomeranian Coco.
The salon offers a safe, warm, friendly and professional environment. They use natural products and staff are all fully qualified and experienced. To add to this, they are members of Pet Care Trust, which means that they are part of a national association that is committed to delivering the highest standards of animal welfare and customer care, an added reassurance to clients.
Services range from nail clipping, wash and drying, weekly brushing, to full groomings "We've even groomed a few dogs for the preliminary stages of Crufts" says Emma. Dogs can also get a "blueberry facial" which is a service used in Harrods pet spa no less! In addition to grooming, the salon provides a collection service, cat sitting, dog day care and walking if required.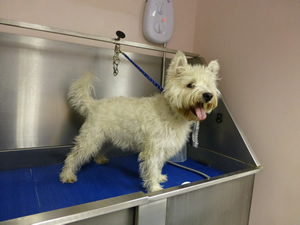 Behind the scenes of this local Sunbury service there are of course lots of stories to tell. The largest dog who visits for grooming is a Newfoundland called (rather sweetly) Daisy and the smallest, a Chihuahua, aptly called "Mouse".
Sunbury's Grooming Gorgeous also sees its fair share of exotic visitors, with ex-pats returning from stints abroad with accompanying pets. There is the Shih Tzu from Iran, called Persia, a dog from India and also Dubai. The salon has had its own brush with fame, in the form of a cat which used to be owned by none other than Amy Winehouse.
Sunbury Matters was invited to visit the salon to see first hand the grooming process. What an afternoon! I was greeted by three very enthusiastic little furry things, including Coco, (who thinks she actually owns the salon!). There was a very furry young Shit-tzu who was there for doggy day care. Socialising with other dogs and being allowed to have the chance to rough and tumble is important in becoming a well adjusted dog. Shadow the Westie was in for a groom. They were all playing happily together as Emma finished grooming a very gorgeous Bichon Frise.
Emma's assistant (and mother) Carole, got Shadow shampooed. As with humans, there is a range of shampoos depending on type and colour of coat. Carole applied diluted shampoo with a scrunchy to get deep down into the coat. She then gave Shadow the famous 'blueberry facial' which is a lotion deeply massaged into the face to give a lovely fragrance and glow (sounds like a trip to my beautician!) The team clearly have pride in their work and a great rapport and interaction with the dogs. "That's the joy with this job" said Carole, "We get plenty of doggy kisses!" It's just as well they are so happy in their work as the whole process takes 2-3 hours depending on the dog type and size. The dogs don't seem bothered about all the preening, and to help matters they are allowed some down time between processes to play and release some energy.
Shadow was dried with the drier, and a snow of dog fur descended on me. Emma says she finds bits of fur all over her at the end of the day. But you can't be bothered about anything like that, and certainly can't be squeamish if you are a dog groomer. They have to deal with cleaning and grooming every bit of a dog!
Emma has always loved dogs. When she was little Carole had a Jack Russell who would occasionally hitch a lift in Emma's pram. Emma herself decided to get into dog grooming when she and partner Dean acquired Coco and she couldn't find anywhere she was happy with to get her groomed. She is City and Guilds qualified and is also doing her advanced certificate in Dog Styling.
The Salon grooms a wide range of dogs every day. They can also fit in the odd nail clipping and maybe a face tidy if time allows. Nothing is too much trouble and you can be sure your precious pet will be well cared for and pampered while it is visiting.
Grooming Gorgeous
14a Thames Street
Sunbury on Thames
TW16 5QP
Tel: 01932 988463