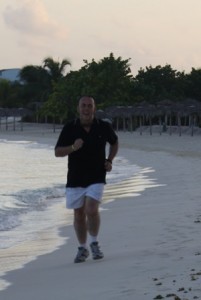 I have lost nearly 3 stone with Rosemary Conley this year and I feel fitter and healthier than ever! It's a real friendly and motivational experience which makes reaching your goal FUN!!! You get loads of help climbing Lorna's model – "the ladder to success".
You also get great ideas on how much and what you can eat and I was surprised to realize that if I ever feel a bit peckish between meals I can have a snack that's part of my daily allowance! Lorna and her team give you a whole new way of thinking about what you eat! I never thought how much good a set of portion pots could do!
I love the exercise part of the programme. It's a great 45 minute workout that you can take at your own pace as Lorna teaches for lots of different levels at the same time! I am doing two classes a week but because my general level of fitness has improved so much now that I also do some other sports during the week as well. For someone like me who has been a coach potato for so long now, it is great to get my fitness back.
I can't recommend the Rosemary Conley experience highly enough. Come along. You have nothing to lose apart from a few stone!!
by Andy from Sunbury
---
To find out more about your local Rosemary Conley programme please contact lorna.andrews@rosemaryconley.com or visit the website.