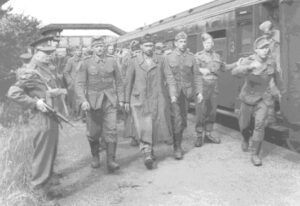 This month sees the anniversary of the outbreak of World War Two, and I have recently come across two different accounts of the experiences of school children in Sunbury and Shepperton at the time.
I recently met sisters Audrey Shimmield and Dorothy Denyer (nee Jones) who lived in Alexandra Road, Sunbury, near to what was then the Anglo Iranian Oil Company research centre (now BP). The sisters were aged 5 and 11 respectively when war broke out in 1939, and remembered their father reinforcing a 'safe room' in the house with railway sleepers in case of bombing raids. Later the family acquired a Morrison shelter, which was effectively a table made of steel with mesh side screens, under which you could shelter. In time they were allowed to use the communal shelters at AIOC.
The research centre was engaged on important war work including research on high-octane fuel for aircraft, and was a frequent target for raids. A map in the BP archives shows the locations of 160 incendiary bombs which were dropped across the site in one night, 22nd-23rd February 1944. Dorothy recalls the fire wardens knocking at her door one night and being handed a shovel, with which to cover each incendiary with earth. It seems barely credible today, that children were called on to deal with such dangerous devices.
Another vivid memory for Dorothy was returning from school to Sunbury station one day, and being held back while a German General in full uniform was taken off the train, presumably en route to nearby Kempton Park, which was being used as a Prisoner of War camp. My second source is a diary of bombing raids kept by a 12 year old schoolgirl in Shepperton in 1940, sadly her name is unknown to me.
She carefully recorded the date and duration of each raid, together with 'what happened'. Raids were usually at night, and there could be many in one day, as for example 20th February when five were recorded. Under the last column, various details of the raids were noted, such as 'gunfire', 'bomb dropped', 'incendiaries dropped' or more worryingly 'German plane went over our house many times'. These were interspersed with more personal notes reflecting the priorities of a young
girl, such as 'went to pictures', 'late for school' and 'Audrey had dinner with us during raid'.
These personal stories give a vivid impression of the dangers faced by local people, but also how they coped and indeed took them in their stride. Nick Pollard will be giving a talk on 'Sunbury and Shepperton in World War Two', to Sunbury and Shepperton Local History Society on Tuesday 18th September at Sunbury Cricket Club, Lower Hampton Road, commencing at 8pm. All welcome, non-members £2 admission.
By Nick Pollard