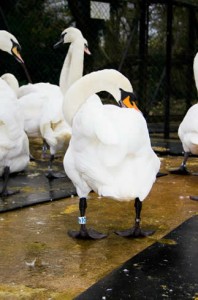 We live on and around the Thames. We may wander down by the river, or sit at the local pubs looking at the majestic swans beg for food, or coo at the little cygnets in late Spring. I wonder how many of us though have attended the annual ceremony known as Swan Upping. I attended for the first time last year and it really is English tradition in all its colour and ceremony.
Swan Upping dates back to the 12th century. It takes place annually in the third week of July. In medieval times the Crown claimed ownership of all mute swans which were of course considered rather a delicacy at banquets. Today the Crown still claims ownership of all unmarked mute swans in open water, but exercises this right on certain stretches of the Thames.
Thankfully the swans are no longer destined for the table! Today the exercise is to monitor the health of mute swans on the Thames and collect data about numbers to ensure their numbers are maintained. The cygnets are caught, weighed, measured and ringed. The adult birds are checked for any sign of injury, sadly often caused by fishing lines and hooks.
The Queen's swan marker is dressed in splendid red, with a feather in his cap. I took this photo of him outside The Weir pub last summer as the group of uppers had their traditional tipple before setting off on their 5 day journey upstream to Abingdon.
The Queens's swan marker is accompanied by the Vintners' and Dyers' Livery companies, the former in red and the latter in blue. They use traditional rowing skiffs. This year they will leave from Sunbury Lock at 9am on Monday July 16th and from Shepperton Lock at 10.45. If you have not seen them before it really is worth going down to have a look and be sure to take your camera.
If a swan is found to be injured at Swan Upping it is admitted to care at Swan Lifeline at Eton. Details of age, parentage and usual location, can be checked out. If they have been admitted to Swan Lifeline in the past for injury or illness this data is also available which can be helpful when treating a bird. Wendy Hermon co-ordinator at Swan Lifeline has a limited ringing licence from the BTO which enables her to ring birds when they are released from care. This also qualifies her to assist the scientific team that accompanies the Swan Uppers.
Swan Lifeline is supported by the two Livery Companies that still retain ownership of swans and participate in Swan Upping, The Worshipful Company of Vintner's and the Worshipful Company of Dyers. Sunbury's Kay Webb is Chairman of Swan Lifeline and was thrilled to be invited by the Vintners to the Queens Diamond Jubilee lunch in Westminster Hall on the bank Holiday Tuesday. Even more so when she was invited to be seated at the Queens table. Placed directly opposite to Her Majesty naturally the main TV footage showed Kay's back!
More information is available on Swan Upping and swan care at: