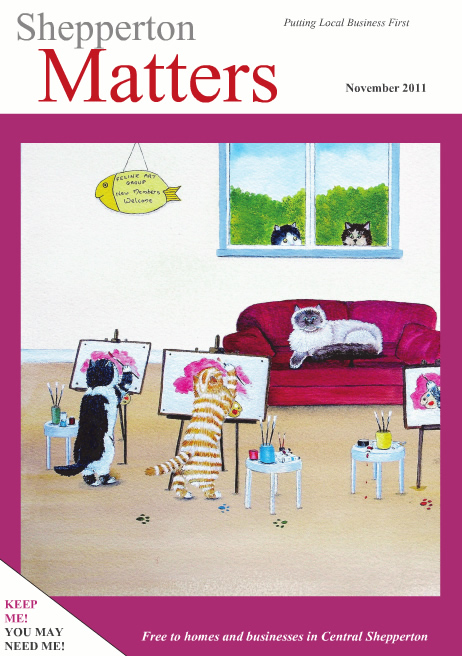 I do hope that you enjoyed you first issue of Shepperton Matters. Thanks to all of you who sent positive messages of encouragement. Thanks also to the advertisers who have been supporting me. Do mention Shepperton Matters when you call them.
This month we are delighted to feature on the front cover the art of one of Shepperton's long standing residents, and active member of the art movement, Peggy Pickering. The Shepperton Artists is just one of many groups meeting in Shepperton sharing a common interest. Another group has set up in the village, this time it is the Friends of St Nicholas, who are recruiting friends to work towards the conservation of the emblem of Shepperton.
Meanwhile in the Village Chard scheme is getting stronger, with many offers from traders in both Shepperton and Lower Sunbury. Have you got yours yet? You can apply in any shop displaying the card.
In this issue

The Pubs of Shepperton
Shepperton Artists
Christmas is Coming!
Keep it Local!
A 'Little Ship' in Shepperton
Restaurant Review
Recipe of the Month
Trouble with your Equipment
The Dictionary Project
SuDoku
A New Approach to Shopping
The Friends of St Nicholas
Kids Winter Health
Garden View