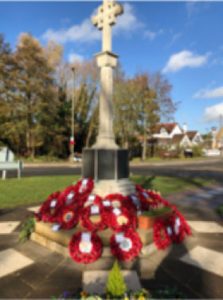 Spelthorne has been busy marking the centenary throughout the borough.
The Shepperton Memorial attracted record numbers in this centenary year when the Armistice was declared after the Great War. Names on the memorial seemed to become more than names as we tried to imagine some of the horror they had been through. The Peter Jackson film "They Shall Not Grow Old", which you may have seen, brought the black and white silent films of staccato figures to life. All of a sudden they were relatable. They felt real. The names on the memorial were flesh and blood. We have a lot to be thankful for.
The council held a special service of remembrance for 9 borough schools for 400 pupils, with readings and poems and a roll call of the fallen. Mayor Jean Pinkerton presented each school with a Perspex figure of a 'Tommy', part of the 'Seen but not seen' charity.
Trees for the Fallen
The following week councillors and Mayor Pinkerton gathered at Laleham Thameside where 100 trees had been planted. Known as the Centenary Plantation, they will grow into a significant wood. The poignant ceremony was presided over by the leader of the council Ian Harvey and the Mayor Spelthorne Jean Pinkerton. The trees symbolise a memory ongoing, 'lest we forget'.
Cllr Jean Pinkerton OBE, Mayor of Spelthorne, said: "The Centenary Wood is a beautiful spot and provides the perfect place to reflect on the sacrifices made by previous generations. I think it's a very fitting tribute to those brave soldiers who fought, lived and died in the First World War. I hope residents will visit the area to see the trees."
In total 851 trees will be planted throughout the borough, one for every solder lost in the Great War who was from Spelthorne. A memorial plaque will be erected at Thameside with a roll of honour of all those killed who were from Spelthorne.