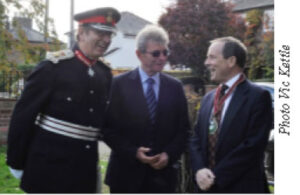 One of only 12 Queens Award for Volunteering given out in Surrey, has been won by the Friends of Ash Link. This award is the equivalent of an MBE for voluntary groups.
The special award was presented at Watersplash Meadow, part of the Ash Link, by the Lord Lieutenant of Surrey, Michael More-Molyneux in the presence of volunteers, councillors and the High Sheriff of Surrey, Jim Glover.
Spelthorne Natural History Society began conservation work on behalf of Spelthorne Borough Council at Splash Meadow and Nutty Wood, sites on either side of the M3, in 2007. These sites were declared in 2011 as the Ash Link Nature Reserve – the first Local Nature Reserve in Spelthorne. Following this achievement, work continued resulting in the award from Britain in Bloom of silver gilt medals in 2015 in 2016, and in 2017 a gold medal.
From 2007 to 2018 the Friends of Ash Link were led successfully by Peter Routley. Peter recently moved to Devon and Irving Lord now leads the volunteers.
The Lord Lieutenant made the point that the group had created a positive out of a negative, turning space bordering a motorway and surrounded by houses, into an oasis for a diverse range of wildlife. As if on cue, a fly-by of Canada Geese squawked overhead, much to the amusement of the gathered crowds. The river Ash is now full of fish and other invertebrates and there is an abundance of flora and fauna on the site.
Such a natural gem has been created and tamed by this group of hard working volunteers who between them dedicated 8000 hours service in 2017. "It is better than the gym" said one "you meet so many lovely people". The positive impact of outdoor work on the physique is one thing, but it is increasingly recognised as positive for mental health, offering peace, tranquillity and the satisfaction of feeling you have helped create something special. Volunteering for FoAL ticks a lot of boxes.
The volunteers meet on the first and fourth Wednesday of each month and additionally on occasions as required by the seasons and weather. Volunteers from time to time host other groups, such as local youth and corporate groups to join in the conservation work and of course new volunteers are always welcome. So how about it?
In the immediate future, the Society plan to focus on developing Splash Meadow by re-establishing more open water in the pond and restoring Splash Wood into a more bio-diverse habitat and to continue to maintain and enhance Nutty Wood. In addition, whenever possible, the Society will assist and support nature conservation projects in the Borough.
Dr Phillip Cribb (middle above), the Society's President, said "Being a small volunteer group makes winning this Award all the more significant. I would like to thank all those who have participated in our conservation efforts and hope this recognition will interest more people to come and join us"