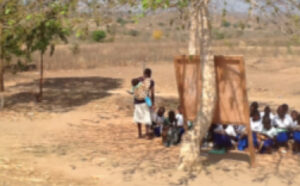 As the new scholastic year starts, your little ones may be setting off on the adventure of a new school or a new term in fresh uniforms. Maybe they wish the holidays lasted longer. Maybe they even tell you they hate school. But imagine if there were no school.
So it is for very many children who, by fate, have been born in Africa.
Milange is a dusty village in Mozambique where Shepperton has special links through St Nicholas Church. Some of you may be aware of it already. It is a very poor country, trying to recover after the devastation of decades of civil war. 40% of
children there don't go to school.
Links were forged between the London Diocese and the Anglican church in Mozambique some 20 years ago and Sandy Swift (wife of Rev. Chris Swift ) became involved, looking at ways to support the community and improve their lot. She and a fellow church member went out to Milange in 2001. At the time there were no facilities in the town. Church services were held under a tree outside the priests house. So funds were raised by the congregation of St Nicholas, Shepperton, to build a church.
The next project had to be education, surely something every child should have access to, but in Milange, sadly not the case. As well as St Nicholas church congregation, St Nicholas school became (and are still) involved. With their help and financial support a block of two classrooms was built for secondary school children in nearby Ngema. Those two classrooms serve 500 primary schoolchildren from surrounding villages per day on a rolling basis. It may be cramped and facilities little more than a blackboard, but the children feel so privileged to have access to an education. They are eager to learn and to improve their futures.
St Nicholas church now has the ambition of building a new classroom block of 4 rooms for primary school children in Milange. The block will be called St Nicholas School, Milange. The government is committed to providing teachers and equipment and all being well the building work will be underway by summer 2019. But it is going to take a lot of money. Initially £24,000 is needed for the 4 classroom block. The secondary phase will be the wall to be built round it (sadly vandalism and theft are factors of life there too) and finally phase 3 will be an admin block. It is a hugely ambitious project.
Fund raising efforts are underway. One Saturday in August a 'Rolling River' lunch was organised, each of the 3 courses served in a different riverside location in Shepperton, with transport by boat between courses. 'Impossible Dream', the Spelthorne boat for the disabled came to help out. Nauticalia kindly provided much needed parking space. Local suppliers Quality Fruit and Daines and Gray discounted their produce for the lunch and it was all cooked and served by volunteers. £2000 was raised from this event alone. At least one local has pledged £1000. That goes so far in a country like Mozambique.
So how can you help? Clearly the project needs money. If this story has moved you, you can donate via the justgiving link on the church website:
www.stnicholaschurch-shepperton.org. Click on the 'more' tab and find the link to the page on Mozambique. Look out also for leaflets in the church and for future fund raising events. There is going to be a concert in February. Halliford School have kindly offered the theatre for the event.
Every child should have an education. Please help if you can. Thank you.