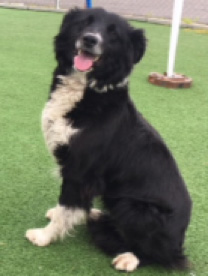 Early this summer, the day I had been dreading arrived. We had to have our beautiful collie, Ruby, put to sleep. She had been an easy dog, good in the car, well behaved and totally reliable. We had rescued her from a bad start to life in Ireland and had built up a trust with her. She came to us with a brain trauma which had never affected her quality of life, but did make her rather 'special'.
When it came to the time to find a dog to fill the space she had left in our lives, we didn't hesitate getting another collie. But our new dog, Kira (see photo), is a different matter entirely. An adorable, cuddly dog, she has all her faculties, but also a bit of the madness that many collies have.
As soon as we set off from the rescue centre we started discovering her quirks. Cars sent her into a total panic. Whether sitting in the car or seeing them pass by, she went berserk, barking, leaping and salivating in huge anxiety. This was new territory for us. We needed help if we were to make this work for us all.
Once home, Kira in a crate in the back of the car, our ears bleeding and our second dog completely wound up, I went to dig out the contact details for a lovely smiley chap called Steve who I had met last year. Stephen Hawkins (yep, you won't forget that name), is a Laleham resident and dog behaviourist, running his company FETCH Dog Training, helping solve doggy issues with clients across Surrey. I had met Steve at the Laleham Fair where he was judging the ever popular dog show. At the time my dogs were so well behaved so I didn't need his services. But now, I was so glad I had met him. He has a lovely air of confidence and fun and dogs clearly love him and respond to his ways.
Steve will visit your home, do a behavioural analysis and develop a training programme which uses positive reinforcement, body language and a little dog psychology. To summarise, Steve speaks Dog. Initially you have to get inside the animals head to understand why they do what they do. Kira lay herself at his feet when he first arrived. "Oh how sweet" I thought. "Oh how submissive" Steve said. Dogs need to trust that their owners are in charge and that they are the leader.
When you get a new dog, you need to demonstrate a calm and confident leadership. I had to be trained to give Kira the confidence she could trust that I would protect her. I was taught that for the first few weeks I should sit down and eat something while ignoring the dogs BEFORE feeding them (even if I wasn't interested in food at that time of the morning). That established me as pack leader. They can only eat when I have finished and tell them it is their turn. It makes perfect sense when you look at animals in the wild.
Four weeks since starting, we have a programme of desensitisation to tackle the ongoing traffic issue. Kira is making great progress. She is trusting that I will not put her in danger, that she can relax and not have to worry about all these passing vehicles. We will get there and I have a much better understanding of where her problems come from. Steve shared a story with me about one of his previous cases. Digby had a huge car phobia but with consistent training and encouragement he had managed an 11 hour road trip to Scotland where he discovered dog heaven of beaches and hills.
And what about teaching an old dog new tricks? One of Steve's favourite behavioural stories is about Jasmine, a 10 year Border Collie who attacked any dog that approached her, especially if she was playing ball. Consequently, the owner always had to leash her if she saw another dog in the distance. A combination of structure and association training were put in place so that Jasmine became increasingly confident and tolerant of other dogs. After just a few weeks Jasmine was happily playing with her owner's friends dogs off leash, and even if there was a ball in play, she would happily share the toy.
There are so many stories on Steve's website covering a huge variety of behavioural issues;
aggression, anxiety, separation anxiety, pulling on the lead, jumping up. The list is endless, but the solution to them all is at hand. So if you are at your wits end, let Steve speak Dog to your furry friend and help you to understand each other and enjoy the special bond a dog and owner have.
info@fetchdogtraining.co.uk
Tel 07753 958730
£5 off your first session. Just mention Shepperton Matters