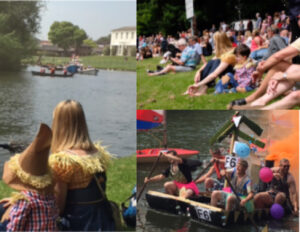 It is over for another year, but wow, what a year it was! The weather was perfect, the stalls were sold out, there was a huge choice of great quality food in the food avenue and the attractions brought something for everyone.
The theme for 2018 was Fairies, Elves, Witches and Wizards which seemed to be a very popular choice. Harry Potters, fairies and even the odd dragon, pitched up on mass. Even Chair of the Fair, Dik Gregory sprouted a rather marvellous beard for his arrival at the head of the Harley Davidsons.
The fair was officially opened by Shepperton's own Green Goddess, Diana Moran, who awarded prizes to all the schools in the procession.
The amazing Raft Race is so important to the day that it has its own organising Committee! Marshalled and commentated by the Desborough Sailing Club, sponsored by Nauticalia and watched by thousands! The efforts of these groups make a big contribution to making the Fair a unique community event. The level of originality in the rafts this year was quite something. We loved the smoke, the tree and the toadstools of course!
The craft tent seemed busy with many of you clustering around the photographic competition (sponsored as usual by Shepperton Matters). Congratulations to winners for some fantastic shots.
The Sunbury & Shepperton Local History stand is always a busy one and they always manage to produce something new to share with the community.
The Village Pottery visited this year and were happily demonstrating their throwing techniques on the potter's wheel.
Outside there was plenty to keep the crowds entertained. As well as the usual children's attractions, there were numerous local charities and groups raising awareness of their causes and raising some much needed money.
As well as Alpacas, there was a superb selection of birds to see and have your photo with at the Falconry area. There were some magnificent beasts there indeed. I missed my chance to hold a vulture, but maybe that is a good thing!
Spelthorne Gymnastics gave us the usual jaw dropping display of daring and dexterity. They never fail to impress. Thanks to the volunteers, the committee and sponsors who make this event possible.