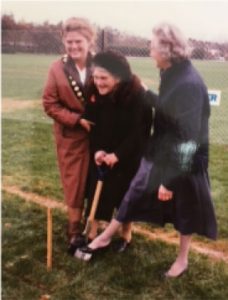 Wow! 30 years since the Greeno Centre in Shepperton was built. How many people must have been through the doors enjoying the care, fun and support offered by this amazing facility.
When we went along to have a chat in the run up to the birthday, they had just finished a Royal Wedding celebration, with flags, a cut out Queen, cakes and even a souvenir mug for everyone who came. There is always such a feeling of joy when I visit.
The Greeno Centre is so named after Nurse Greeno, a midwife, remembered by many as very strict but very kind. She used to ride around on her bike attending local births. There must be many of you out there who were delivered by her in fact! She was clearly a very caring person and also had the initiative for meals on wheels cooked in a local kitchen (before the days of health and safety of course!). The Monday Club at the time was held at the Rifle Range as recently as 1982 and Nurse Greeno would be there with cups, saucers, teapot and biscuits.
The use of the Rifle Range for the club came to an end when parts of it was gutted by fire. With no other suitable venue in the area Nurse Greeno campaigned with Age Concern for the building of a new and dedicated centre in Shepperton and the rest is history. She was invited to dig the first spade in for the footings with the help of the lady Mayor at the time. Nurse Greeno died in November 1992 but her memory lives on.
The Greeno Centre was completed and opened in 1989. Since then it has expanded its services and today it is a lifeline to many.
Cameo, the day centre for people with memory problems received the Countess of Wessex on their 20th anniversary in 2010.
The Spelthorne Wellbeing Centre was opened in 2013 by Cllr Jean Pinkerton, now Mayor of Spelthorne.
But what of two familiar ladies we have not yet mentioned and who have between them clocked up 45 years of service at the centre? We are talking about Vanessa Welch and Pat White of course. These stalwarts make the Greeno tick. They are the endless energy and positivity who keep the centre going at its most vibrant.
Both started in the kitchens before moving into the office and becoming the two lynchpins.
The Greeno offers a multitude of services to the aged and various high need groups. Members come to socialise, have a freshly cooked lunch, do activities, exercise classes or to take advantage of services on site such as hair dressing, chiropody, massage and even a walk in shower for those who need help. Some members come to the centre daily. It is what keeps them going. We are immensely lucky to have such a facility in our community. When I visited Cllr Maureen Attewell, Portfolio Holder for Community Wellbeing, was there. (seen right with Pat and Nessy) "There is a secure future for the Greeno which as the full commitment from the council" she said.
www.spelthorne.gov.uk/greenocentre