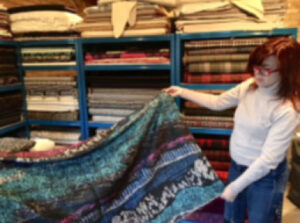 Shop for a special frock and you are always faced with the possibility that you may show up to a wedding or party and find someone wearing the same as you. So, have you ever thought about having a dress made for a special occasion? You may gasp at the thought, assuming it is completely outside your price range, but that is not necessarily the case.
We visited local fabric supplier Lee Taylor (but he is not a tailor). Lee supplies top quality fabrics to the likes of Paul Smith, Burberry and Victoria Beckham's designer label with top quality fabrics woven in France or Italy. He also supplies fabrics to the likes of Reiss, Karen Millen and Next on a wholesale basis, so without knowing, you may well already have some of his mid range fabrics in your wardrobe.
But let's get back to the top quality range. As is the case with many businesses, Lee faced exorbitant hikes in rent for his premises in central London. It made no financial sense so he downsized and took a lot of his fabrics home to Shepperton where they are available to view and purchase at very much discounted prices. Instead of £80 per metre, you can pick up a metre for £25-30. We went to visit and have a look at what he has for sale. He unfurled roll after roll of stunning weaves. As he opened them up the colours of the fabrics came to life like the wings of exotic birds. There was nothing here you would find on the high street and it was all top quality silk jacquard or wool.
But to have a garment made to measure you need someone who knows what they are doing. It just so happens that in Shepperton is a seamstress called Laura Harrison. With 30 years of experience she can make a beautiful one off dress for a special occasion and you can guarantee no one in the room will have the same!
But how much will it cost, I hear you say. If you were to visit LK Bennett or Reiss and purchase a dress for a special party or event you would probably accept the fact you would be spending at least £200 and probably a whole lot more. But you would not have that unique piece. You could instead choose to purchase fabric from Lee Taylor and ask Laura Harrison to make you up something stunning and bespoke. Depending on the complexity, you would not be forking out any more than you would for a dress 'off the rail'.
So, whether it be mother of the bride, an engagement party or prom, think about a different way to that special frock. Both are local businesses and only a phone call away so do get in touch and see how they can help make your event special.