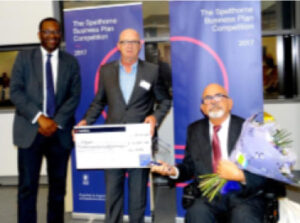 In 2016 Spelthorne Borough Council introduce a new strapline to it's marketing 'Spelthorne Means Business'. Situated in proximity to major access points such as London Heathrow, the M3 and M25, it is proving to be an area of great interest to new businesses looking for growth or looking to move to a new area. The council is putting is certainly proving its credentials too.
This month sees the launch of the 2018 Spelthorne Business Competition. Launched 5 years ago with the support of MP Kwasi Kwarteng, the competition is open to any individual or business within the borough and applications are sought from those with a new and original business idea. The prize is £3500 and mentoring to help kick start their idea. Last year's winner was Cillguard, an idea to protect sills of cars when wheelchair users are getting in and out of vehicles.
The competition is sponsored by major businesses in the area such as BP, BA, Heathrow and Pinewood Studios. The competition opens on February 12th. Finalists will be invited to a 'Dragons Den' type presentation on Thursday May 24th at BP, where the winner will be selected by a panel. This is fantastic opportunity for a small business with a great idea, looking for support to move it forward. If you think you have an idea, this is your chance.
Spelthorne businesses are further served by the Spelthorne Business Forum, a free group for local businesses run by Spelthorne Borough Council, which organises networking events and hosts a website to connect local businesses. For the first time this year you can also look forward to the inauguration of an annual business awards scheme for Spelthorne. Spelthorne Means Business Awards launch on 6th February. Offering 7 exciting categories, including Best Small Business and Independent Business of the Year, this new event is designed to celebrate Spelthorne businesses and to highlight the successes we have in our local business community.
You can enter online at https://www.spelthorne.gov.uk/SMBA and if you are a local business why not join us at Shepperton Studios on 11th October for our sparkling awards' evening. Businesses which win awards benefit from a boost in brand awareness and credibility in the marketplace, so what have you got to lose?
Finally the Heathrow Launch Pad will open at Spelthorne Borough Council's offices in Knowle Green in September. It will provide a new hub for high tech businesses in the Borough with below market rate, flexible office space alongside exciting business support programmes which are designed to help new businesses to thrive and prosper in the area. This new space will also be a hub for other new businesses to come together, to network, collaborate and take part in some exciting new workshops. For more details about the incubator please contact r.lambert@spelthorne.gov.uk.
So with all that in mind, Spelthorne really does seem to mean business. It is brilliant to see so much support for small businesses in the borough, so if you are one, just get on and enter one of the awards.