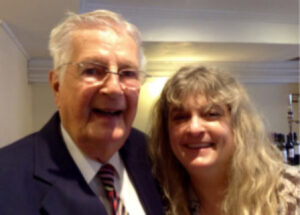 Shepperton Hotels Limited is sad to announce the death of its founder, Douglas Gordon.
(Pictured with his niece Alison Gordon)
Douglas died, peacefully, at St Peter's Hospital, Chertsey on Sunday 7 January. Douglas was 86.
Douglas, his parents and younger brother, Vernon, moved into a house on Oatlands Drive, Walton on Thames in May 1947. That house was to be his home for over 70 years.
Douglas went to senior school at Pomfret in Connecticut, USA. Douglas then studied hotel management at Cornell University in New York, USA. He kept up friendships from his school and university days his whole life.
Douglas' first love was the stage. He was passionate about the Gang Show and was a proud member of the show business charity, The Water Rats. Douglas was secretary of the Michael Feinstein Appreciation Society. He sang with the Weybridge Men's choir, celebrating his 85th birthday with a performance in the sunshine at The Warren Lodge of which he was justifiably proud.
Douglas always said that he wanted to make his living in show business, but his family would not let him. Instead, Douglas made an enormous success of being an hotelier, which he thought was the next best thing to show business. Being an hotelier required a performance every evening.
Douglas worked in the 1950s and early 1960s in various London hotels, including The Grosvenor House and The Hilton.
However, Douglas always wanted to run his own business. Aged just 34, in 1965, he bought the Warren Lodge in Church Square, Shepperton. Now a 50 roomed hotel, the Warren Lodge was then a small pub with just a handful of rooms. Douglas added the Anchor, across the same square, in the 1970s and The Ship, across the Thames in Weybridge, earlier this century. In between times, he had bought and then sold two motels, Sea Bird and Silver Beach, in Sarasota Florida.
Douglas was a man of immense generosity and courtesy. Douglas was a true gentleman and had great depths of kindness. His personality was the key to his success.
Douglas will be greatly missed. Put simply, he is irreplaceable.
Warren Lodge Hotel and Anchor Hotel, Church Square, Shepperton, TW17 9JZ
Email: c&b@desboroughhotels.com Telephone 01932 237665