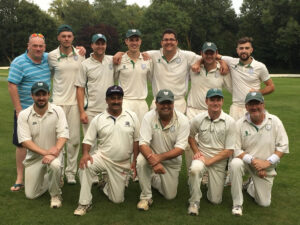 2017 has been the most successful season in the Shepperton Cricket Club's history. In the Men's section, the 2nd eleven won the league and promotion by winning all 16 of the games played – (as far as we know) this is the first time this has ever been achieved by any club – certainly the first time this millennium! 2nd XI Captain Nick Cooper said: "It's been a great summer with everyone playing enjoying being fully involved in games as well as winning!".
The 1st eleven also secured promotion to the Premier Division of the Fullers Surrey County League, finishing in 2nd place. With so many young players in the team we are optimistic for continued success in the higher league.
An increase in player numbers of over 10% helped the 3rd XI achieved an unprecedented position in the top half of the very competitive West Division of the Surrey Championship. We fielded a strong combination of teenagers and over 50s, as well as some of the Ladies who helped slow the opposition scoring rates by setting a good example to their male teammates on how to bowl line and length!
The Sunday Friendly team was again a mix of ages and abilities from teenagers playing their first adult cricket through to some over 60s – and a mix of results, winning half the games.
The Ladies also enjoyed another successful season, losing only 2 games all year. They finished 2nd in the Surrey Trust League and an unlucky 4th in the Women's Cricket Southern League. We welcomed several new players, especially through the Surrey Youth Games, and continue to grow the section with optimism for promotion next season.  
Numbers were up again in the Juniors section helped by our support for the ECB's All Stars initiative and the Surrey Youth Games. It was great to see 3 colts enjoy their first adult games and to have nearly as many girls as boys in some age groups.
Off the field we have invested in improving our facilities and our beautiful ground has been enhanced by the banners of our many sponsors who tell us their businesses have benefited from their partnership with the club. More and more people have enjoyed the use of our Function Room for anything from 18th birthday to 60th wedding anniversary parties.
Looking ahead it's going to be a busy winter as we renovate the cricket square and design an extension to the clubhouse to expand and improve our changing and storage facilities. Of course, we will continue to seek new members to enjoy our beautiful ground and the way we play. As one new (mature!) member put it "This is friendliest club I've ever played at".
As ever, anyone interested in enjoying cricket in Shepperton next season will be given a warm welcome. Winter nets will start early in the new year – for dates and contacts search Shepperton cricket.