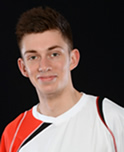 An international Badminton name, a yacht designer, a film studio director, an Olympic gold medallist and a business entrepreneur: What do they all have in common? They all attended Halliford School. A good education, in a supportive environment that allows you to explore your individuality is so important to get you a start in life. We are not all lucky enough to have that (I didn't – although I turned out OK in the end!) but it seems Halliford School on Russell Road has its fair share of success stories.
Toby Penty (see photo) is a name which will be familiar to you if you are into Badminton. He is still only 21, but has already represented England in the sport at in international level, is now in the seniors and has 3 caps to his name. Halliford is a very sporty school and it will have played a major part in his development as a top sportsman.
Stephen Trapmore MBE returned to Halliford last year to give the key address at the annual Speech Day. He had been keen on rugby, but at his trials he was advised by teacher Nick de Cata to try rowing instead. History was made there, and Stephen excelled at the sport, taking gold at the 2000 Olympics as part of a GB rowing 8.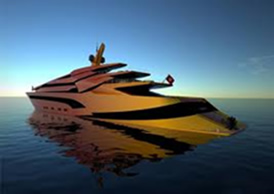 Alex McDiarmid is already a top designer of super yachts. Known in as l'enfant terrible of yacht design since arriving on the stage of super yachts as an independent designer in 2011. His designs have been described as 'stunning and spectacular' (see photo). His studio, based in the south of France, is equally known for a 'complete disregard for convention'. His 85m yacht Iwana (above) was shortlisted for the Yacht and Aviation Awards 2013. All this from a man who is still only in his mid 30's.
Dave Godfrey is closer to home, well, some of the time at least! He is Director of International Operations at Pinewood Shepperton Plc. He has been there since 1985. I had the pleasure of meeting him last year and he is charming and welcoming, but somewhat difficult to track down to local territory since he spends most of the time on a plane, visiting sites used by the company. This may include visits to the Dominican Republic where they have their huge water filming facility, used in the likes of Pirates of the Caribbean. Also Malaysia where their new site is now open for business, and the new studios being built in Atlanta in the US to be open in January 2014.
Entrepreneur Darren Allen is closer to home. Based in Egham, Darren runs a very successful and growing catering company, How Can We Help You?. He has just acquired two further businesses, taking him into the world of mobile bars and corporate entertainment.
It is interesting how we all find our paths in life, but one thing is certain – an education, where striving to achieve is actively encouraged, must have a lot to do with easing that journey.