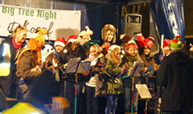 The thick, cold fog did not seem to dampen anyone's spirits on 11/12/13. Big Tree Night was a great success. The spirit of community, which was perhaps overshadowed a little by the large rig on the High Street and the presence of the radio station in 2012, was replaced with traditional carol singing, a PA system which could be heard all along the High Street and truly local entertainment.
We joined in the singing, ate lots of mince pies washed down with mulled wine and somehow managed to squeeze in a portion of magnificent fish and chips too! (I should have signed up to Fresh gym after all that!).
Thamesmead Ukelele band kicked off the proceedings and did a marvellous job.
The carol singing was very much centred on church choirs with the Rev Chris Swift of St Nicholas presiding It was wonderful to see how everyone joined in.
We had a good look at the stalls, loved Santa's transport courtesy of Brooklands Museum Trust. We sampled a few treats on route before stopping to guess just how many balloons could indeed fit in a small car, courtesy of Haart. (The answer was 112 in case you didn't know. Gutted I was only 5 out!).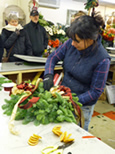 Quality Flowers were doing a wreath making class, so we joined in to see how the professionals do it! Julie Hennessy gave a great demonstration and helped by another mulled wine I seemed to produce a half decent wreath myself too!
We wended out way down the chilly High Street accompanied by lovely wreath and feeling rather pleased. Many families had left by this time, but Halliford School Wind Band was in full flow with some Frank Sinatra numbers belted out by a rather excellent vocalist. That soon attracted a crowd and as well as singing, there was dancing in the street. Yes, you were spotted!!
The slogan for Big Tree Night this year was "Keep it Local" and they did just that. It is immensely hard work to make something like this happen. The event is managed by a small group of volunteers so we say thank you and congratulations! This year was the best yet!