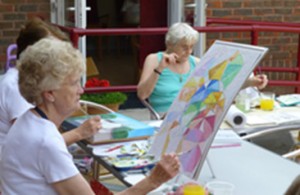 It is a sad fact that dementia is affecting a growing proportion of the population. It may be that you find yourself forgetting things more readily. You can remember your wedding day, but can't remember what you did this morning. This can be a really troubling experience, and difficult to talk to anyone about. Surrey seems to have a higher proportion per 1000 than the rest of the country, and with cases set to increase, it is key to be able to provide help.
Spelthorne Council have recently invested in a specialist Wellbeing Centre for the area, which is situated in the Greeno Centre. A previously unused area has been substantially refurbished, from the old changing rooms and up the stairs to a light and breezy centre. There you will find an admin centre, an area for social services and a large room where you can be assessed for aids to help you in your daily life, enabling you to continue to live an independent life. There is a range of specialist equipment from smoke detectors to personal alarms, and even beds with sensors so that they can raise the alarm if a person should fall out of it. The centre is open to anyone, whatever your situation and whether you are concerned about yourself or someone else.
To welcome visitors to the centre, the corridor and stairs have been adorned with recent work from the Shepperton Artists group that meets at the Greeno (see left and cover). Scenes from Shepperton life and history will be sure to prompt memories and give visitors a warm welcome.
The Greeno is such a resource for locals. When I visited, the Tuesday Art group were installed on the patio, enjoying a cool breeze across the playing fields, surrounded by flowers and plants supplied by Grassroots, all no doubt contributing to their sense of well -being and inspiration!