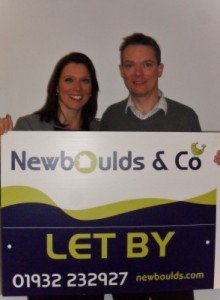 Newboulds & Co are a small family run independent lettings agents set up by Sister & Brother Leah Newbould and Barry Fogg. We have over 20 years of Agency experience between us in Sales and Lettings.
Newboulds & Co brings an experienced, local and friendly service to the Village. After working for larger corporate agencies it's nice to be able to offer the Landlord flexible packages with good customer service that suit their needs. We create a friendly rapport with our clients so when they call our office they feel comfortable approaching us and know they are going to be talking to people who generally care about their properties rather than different departments and different people for different situations and due to our low overheads we are able to offer more competitive fee structures to our clients.
Because we have lived and worked in the village and neighbouring area's for several years ourselves we understand what our village is all about, our children go to nursery and school in the area and we understand why people would want to move to Shepperton and the surrounding areas.
Newboulds & Co can offer not just an experienced service but a more personal service and really look after our clients. One of the most important things to us is good customer service and providing above and beyond just finding a tenant for the landlord or a home for the tenant but providing an overall package where they feel truly satisfied and secure. Often Estate Agents are given a bad name, and it can be a nervous time especially if it's their first rental, so it's nice to be able to offer advice and understanding, take the stress out of the whole situation and make it a pleasant, smooth and hassle free move.