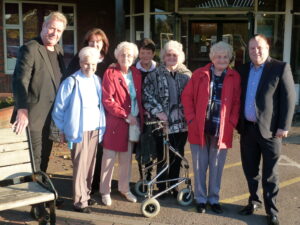 This festive period is indeed described as the season of Good Will. It is not always the case, but thankfully there is evidence of it being alive and well in communities and particularly in times of need. I saw this photograph on the internet, posted on someone's railings in New York after Super Storm Sandy had hit.. This household was one of the lucky ones to still have power, so invited those less fortunate to help themselves and charge mobile phones.
It was a small gesture, but so very thoughtful.
We have had reason to look to our communities' attitude to need during the past year. Earlier this year it was the man on the bench at the end of the High Street in Shepperton. As we go to press the lady on the bench on Rivermead Island in Sunbury is still there. In both cases locals have brought food, blankets and umbrellas. I heard of one lovely lady who had taken a wet sleeping bag home to wash and dry. It has shown the kindness in people, who probably would rather this was not on their own doorstep, but as it is, they will do their bit to help.
Christmas is a time when doing a little bit means so much to so many. Once again the churches in Shepperton will be organising a Christmas Day Lunch at The Greeno Centre for people who would otherwise be alone on Christmas Day. Anyone in the Shepperton or Halliford area is welcome, regardless of age or faith. This day couldn't happen without numerous volunteers to help during the day, bringing and returning guests in their cars, helping with food preparation, serving and clearing away and generally mingling with the guests to make the event as much of a family day as possible. It is really nice for guests to have young people pop in to join in with the pre-lunch carol singing, so youngsters would be very welcome in the morning. This year they would particularly welcome helpers in the kitchen.
For details please contact Julia Jelley on 01932 883922
Surrey Home Improvements, a Shepperton based local business, are putting 'Charity Begins At Home' into practice too. Over the years Colin Kane one of the owners of Surrey Home Improvements, has helped many local schools and charities. After reading an article regarding the Greeno Centre in the November issue of Shepperton Matters, Colin together with his business partner Kevin Wheeler decided to give some of the senior citizens who frequent the centre a Christmas lunch. So on 13th December they will be taking them out to Thames Court, Ferry Lane.
According to Colin and Kevin, "The average age of the 24 attending is 84 years old, so there should be plenty of dancing and singing going on! Surrey Home Improvements has been well supported by the local community over the last few years and we feel honoured to give something back"