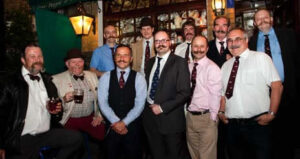 One of our more colourful residents in Shepperton is surely Rod Littlewood. Jovial, he has a thing about feet…oh, and he sports rather a lovely handlebar moustache. Rod runs the Shepperton Chiropody Clinic, but in his spare time he is also President of the Handlebar Club, whose members are of the hirsute variety (partially at least). Rods facial hair may give that passion away somewhat.
This month is November, but for many it is MOVEMBER a month-long event involving the growing of moustaches to raise awareness of prostate cancer and other male cancer initiatives and to raise money through sponsorship. Rod Littlewood is very much involved in the charity. But before we go into that, let's just have a look at some moustachioed news.
You may not be aware of the fact that this September saw the first British Beard and Moustache Championships which were held in Brighton and the event was a roaring success. Rod's Handebar Club, who were one of the organising clubs, saw members come away with 10 medals. Categories were from natural to English,
Muttonchops and Freestyle, but it is reported that one of the most hotly contested categories was Britain's best Handlebar Moustaches
The Handlebar Club was founded in April 1947 in the dressing room of comedian Jimmy Edwards at The Windmill Theatre in London. Edwards was of course famous for his role as the Headmaster in "Whack O" which I remember watching when I was a child. There were 10 founder members, including Jimmy Edwards and Frank Muir. The object of the Club was, and still is, to bring together moustache wearers (beards being strictly prohibited) socially for sport and general conviviality. The aim of the Club was to assist any worthy charity or cause, particularly those devoted to ex-servicemen. These days the Club supports the Movember initiative, although members are clearly a long way ahead of those baby faced novices who give it a go!
Rod himself has come up with a novel moustache of his own for Movember. To match his marvellous facial handlebar, he will be sporting a matching on…on the back of his head! Surely that has to be worth a large amount of donations. So to make it worth his while, and if it the story has tickled you, please ….blah blah,
donation…..