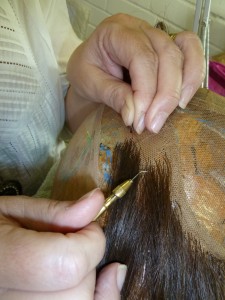 In last month's issue, I told the story about Archie Andrews and the new wig for his "double" which was being made by the Shepperton Wig Company. I was fascinated to learn more about this unusual business, so was invited back to find out all about the company.
There are three partners in the business, Gill who is now semi-retired, but who started life as an apprentice in one of the large wig companies in London, Joanne who trained as a hair dresser and Linda who followed her family into costume making and finally specialised in wig making after 3 years at the Royal Opera House in the wig department. What glamour!
Wig making is surely an unusual career and it is a real art. Shepperton Wig Company has two main sides the business: Commercial and Private. They make and supply wigs for Film, Theatre and TV. They also hire wigs out, each carefully washed and cleaned before re-hire. They are increasingly involved in making wigs for individuals, those who want to change their image, and those who have lost their own hair. They deal with both sexes and all ages and have a very sensitive approach to consultations. A head of hair is our crowning glory, and they talked of the transformation in self-confidence of their clients once they were wearing their new wigs.
So, where is the hair from?
Joanne produced a magnificent glossy hank of hair which had just come in. It is sourced from a hair merchant (yes that job does exist!) and they in turn buy it all over Europe and as far afield as Mongolia. Interestingly the hair in then treated and dyed. A net base is then created and stitched, made to measure. A hair line has to be applied so that they know how the hair will fall over the face. Then the knotting starts.
The ladies are unbelievably skilled and fast at their work. Linda demonstrated knotting individual hairs into the net base and I could see a hair line appear before my eyes. Linda and Joanne tell me they take about 40 hours to knot a wig, but this is with years of experience.
Interestingly it is not just hair wigs that have been made by the company, but I was intrigued to hear about stories of hairy hands, chests and other body parts that have been commissioned! No wonder the ladies have all got a great sense of humour!