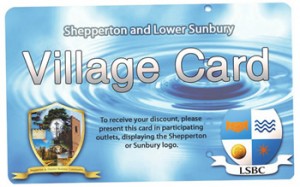 Have you got yours yet? 500 people in Shepperton have got theirs and are making savings galore in Sunbury & Shepperton. It only costs £10 (£5 if you are over 60) Just take a look at how a week in the life of a Village Card might look:
Monday – my friends birthday today so I pop into Daisy Chain where I get 10% off my bouquet because I spent over £30. Great!
Tuesday – A little time for me needed today, so I head off to Coco for a facial and spend an hour of blissful relaxation and I get a whopping 20% off with my Village Card. To complete my makeover I get my hair cut and coloured at Bensons and get 20% off that too.
Wednesday – My dog needs a booster vaccination and as today is 10% off at Shepperton Vet I make the most of it and get it sorted.
Thursday – Met the girls for lunch at The Red Lion. When it came to pay they kindly asked "Do you have a Village Card?" and as I had we got 10% off our bill! Maybe I should have had the dessert after all.
Friday – My curtains need a clean so Thameside Laundrette takes them in to spruce up for a great 50% off. Yipee! my house sale has completed so
Curchods knock £200 off my fee. Amazing! All that because I showed them my Village Card when I had instructed them. Lugging heavy boxes around has taken its toll though, so I go to Shepperton PhysioFirst Centre for some treatment and get 10% off.
Saturday – I need some box files so pop into Brookman's and I get 10% off that too. So, in only one week my Village Card has saved me a lot of money already and it only cost me £10.
What are you waiting for Shepperton?
Look out for signs in the village and you can usually get a card straight away from participants. Otherwise contact Matt Want on 07732 637290 or if you have the internet email sheppertonbc@gmail.com. Sunbury also offers a range of participants, including The Magpie, Indian Zest and Van Wonderen Flowers to name a few.