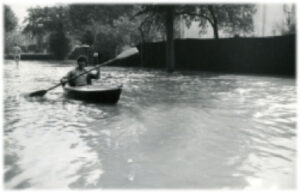 Fifty years ago, this month, Molesey and surrounding districts, experienced devastating floods.
Thousands of people were affected, and in Molesey alone approximately 6,000 properties were flooded.
The summer of 1968 had been cool and wet, with a rainy start in September, followed by a large weather depression moving across from France, extending to southern England, bringing warm air and thunder. On Sunday 15th September, double the normal amount of rain fell, and the deluge from the local rivers began. Local government officials alerted the emergency and military services, and crisis centres were established at Esher, and Hurst Park. Army engineers moved sandbags to the embankments to try and stem the overflowing water from the rivers Mole and Ember. In several places water was eight feet deep, and in Walton road, shop windows cracked because of the water pressure.
The following day the Mole Bridge in Esher road, was swamped, with the river bursting its banks across the flatland towards Hersham. The Thames was lapping the edge of Hurst road, but fortunately that major river had reached its peak. I was living in West Molesey and remember that this part of the town was virtually a lake, and by evening the water had overwhelmed East Molesey.
The town centre was only reachable by boat, and a rescue operation commenced as army amphibious
vehicles, small boats, cabin cruisers, canoes, and rafts, were used to rescue families, and to supply food to those residents who were reluctant to leave their homes. Police broadcast messages that anyone wanting help should hang a white towel from an upstairs window. Troops rescued patients from the cottage hospital, and one patient made everybody smile when she said "This all seems too unreal to be true".
A Government minister advised, "Beware polluted water, avoid unnecessary travel, keep phone calls short, conserve fresh water, and power." At the emergency centres volunteers kept children amused and provided food and shelter for flood victims. TV and radio companies broadcast from the town, along with newspaper correspondents reporting to a countrywide audience.
Finally, after several days, much to the relief of the community, water started to subside, and the situation improved. The fire service commenced pumping out water from premises, and mopping-up was in full swing. De-humidifiers were used for the long process of drying out properties. Residents started to return home, and buses and trains reverted to normal schedules.
As the waters retreated people realised how bad the damage was. Insurance representatives arrived to assess claims, and in Parliament MP's demanded the implementation of an Early Warning system to alert the public about any anticipated floods.
Lessons were learnt from the disaster and a Flood Alleviation scheme was undertaken, this included 3km of earth banks, to protect all the local boroughs. The rivers are now regulated through sluices and structures designed to minimise damage.
These floods were the worst in living memory, and it would take many months or years for damaged properties to be fully repaired. The experience brought people together, and many will remember the "Dunkirk Spirit" which was encountered in Molesey and throughout the flooded areas of
Surrey.