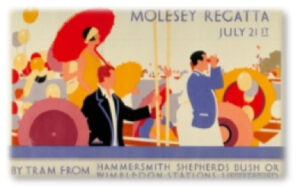 Our own Molesey Regatta this year takes place over the weekend of July 21st and 22nd. Place a note in the diary, it's a fantastic event.!
But did you know that the Henley Regatta was first hosted in 1839 and has been held annually ever since apart from during the two World Wars. It was originally intended as a public attraction with a fair and other amusements but soon changed to become primarily a rowing event. The regatta was initially held over one afternoon but by 1906 had been expanded to cover four days. Its continuing popularity meant that by 1986 the event lasted a full five days. Although established in 1839; in 1851 Prince Albert, the Prince Consort, became the first royal patron of the regatta, granting it the right to be called the Henley Royal Regatta. Since the death of Albert, every reigning monarch has agreed to be the official patron of the event, and members of the royal family frequently attend the races. The regulation distance for the races is 1 mile 550 yards (2,100 m).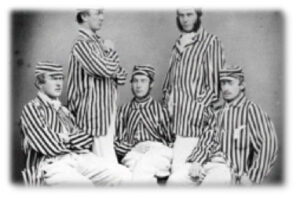 New College, Oxford rowers wearing early blazers (1860), Public Domain.
Probably the most significant of the traditional Henley races the Grand Challenge Cup, the oldest (established in 1839), which usually attracts the world's finest eights (crews using eight oars), and the Diamond Challenge Sculls (1844), one of the world's top single sculls events (one man, two oars). There are several other events, for various types of crews, most of which are open to entries from anywhere in the world. There have been four race courses at Henley. The first course began on the Berkshire side of Temple Island and ran to Henley Bridge. That course was 1 mile, 550 yards long. The "New Course" (1886-1922) started on the Buckinghamshire side but had two slight bends in it. In 1923 the start was moved back and a straight course reintroduced, and finally in 1924 the current course was made by cutting away the bank to produce a straight line of the original length. The odd length of the race course is purely the result of necessity, as that was the length of the straightest bits of the Thames near the town.