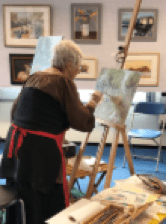 For nearly sixty years the Molesey Art Society has been the focus for artistic endeavour in the local area – indeed, they celebrate their diamond jubilee in 2019. The Society recently held their annual spring exhibition at St Alban's Primary School in Beaulieu Road – an opportunity for visitors to see the work of many local artists. It is not just painting in a variety of media on show but also sculpture, ceramics, jewellery, textiles, woodwork and other crafts – all making a lively and engaging display of local talent.
One of the original members was Terence Cuneo, the celebrated painter of steam trains whose statue adorned Waterloo Station until recently, and the Society now has a membership of about 250 amongst whom are professional artists, teachers, gifted amateurs and complete beginners – all are welcome and everyone can exhibit their work at the spring show and at the Autumn Fair in November.
There is also an open air exhibition on the towpath near Molesey Lock over the August Bank Holiday weekend which is a great opportunity for member's work to be seen by a much wider audience – all dependant on the weather of course. The Society meets about once a fortnight on Saturday afternoons at St Alban's throughout autumn, winter and spring for tutored drawing and painting workshops and there are a couple of additional, slightly longer, events arranged for the summer this year.
These sessions have included a live model in flamenco costume, an exploration of autumn harvest, cartoons and caricatures, still life with watercolour, drawing in charcoal and graphite, buildings in mixed media, flowers in watercolour, a harbour scene in any medium, the use of pastels and a captivating encounter with live birds of prey – what a challenge!
Demonstrations by professional artists occur on a monthly basis on Friday evenings giving members an opportunity to see skilled practitioners at work and to pick up valuable tips and techniques. Over the past year members have been entertained by Kevin Chapman life painting with a model, Caroline Bays demonstrating portraiture in oils, Ronnie Ireland exploring what can be achieved with the humble pencil, Christine Hopkins creating an urban scene using mixed media, Kim Page painting a harbour scene in watercolour and Marie Antoniou capturing the magic of animals in nature.
Anyone with an impulse to be creative in whatever medium will find a warm welcome at the Society and have an opportunity to meet and interact with like-minded individuals. The Society has a website (www.moleseyartociety.co.uk) and there you will find much more information and also examples of member's work.