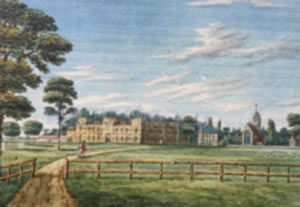 A former hunting lodge of Henry VII is in danger of being pulled down. Hanworth Park House which comes under Hounslow borough, has stood empty for 25 years but was bought 3 years ago by Gary Cottle who wants to sell a part of the land off for housing and put the funds towards restoration of the lodge. He inherited a plan which has been approved for a hotel on the site but is seeking approval to change the configuration and offer housing both onsite and apartments within the house. So far Hounslow has refused the application as they were deemed "not in keeping with green best policy" – and yet the original plan for a large hotel on the green belt was!
First used as a hunting lodge by King Henry VII, Hanworth Park House acted as a military hospital in World War I and was most recently a nursing home. It burned down in 1798 and the new build has been standing since 1802. Hanworth Park was a major part of the aviation history of the area and the Kings cup was awarded to Amelia Earhart, the first woman to fly over the Atlantic from the US to Hanworth, on the steps of the house (below).
We attended a very interesting open day at the house recently to get a better understanding of the plans. Set in around 10 acres of parkland it is a stones throw from Feltham's Cineworld complex which is rather incongruous. I had no idea it was there before our visit. It is feared the building will ultimately fall down if restoration is not undertaken soon. The vast wrought iron balconies are putting great pressure on the façade of the house. The plans for the site are sympathetic, in fact I would say it would create an amazing space. The idea is to put a museum and a pop up café as well as community space within the main house and landscape the grounds in the style of the original lodge so locals could enjoy the grounds.
This could be such a wonderful space, both for recreation and accommodation. Surely it is common sense to find a solution and the community agrees.
Find Hanworth Park House on Facebook and follow progress. Show your support.